Hida Takayama Hot Springs
Enjoy bathing at our Onsen (hot springs) in the mornings and evenings. Each season boasts its beautiful transformations of the scenery of mountain forests. We guarantee you an enjoyable, relaxing and luxurious time with us. While you are resting your body in the hot water, feel the crisp and refreshing mountain breeze on your face.

Our hot spring is one of the Takayama Onsen regional springs, with the type of its water classified as ?alkaline simple thermal? and ?mild quality spring', which means it is suitable for everyone in general.
Shared Communal Hot Springs
Matsuri no Yu
Located at the 4F of main building, you can enjoy the spectacular view from our large communal hot spring bath. The wall painting art works in the showering area were those from the Takayama Festival 50 years ago. It continues to uphold its original beauty, which we are proud to maintain and share with our guests.

Available Hours 15:00 ~ 24:00 (women only) / 06:00 ~ 09:00 (men only)
Bougaku no Yu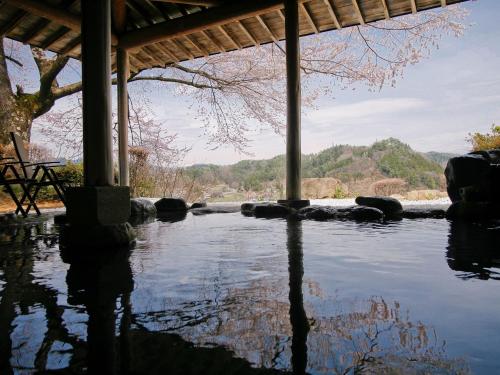 This hot spring area, with large main bath and outdoor hot spring, has a wonderful view of the Japanese North Alps on clear sunny days. As we are located in the highlands of Takayama, the scenery is exclusively available only from our hotel.

Available Hours 15:00 ~ 24:00 / 06:00 ~ 09:00 (subject to change)
Private Hot Springs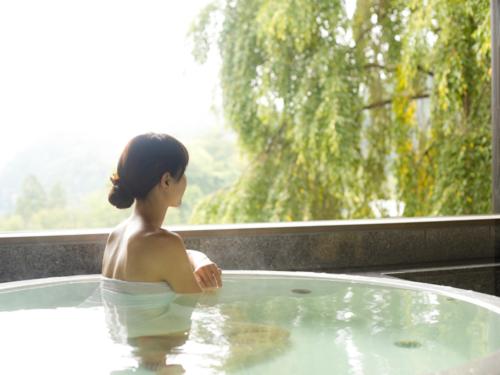 Open in December 2013, we have five different private hot spring baths where you can spend a relaxing time with your companions.You have to make reservation upon check-in, and for this there is no reservation fee. Choose your favourite hot spring and your desired time of use upon check-in. Please note that the booking time frame depends on the availability.

Available Hours 16:00 ~ 19:00 / 20:00 ~ 23:00 / 07:00 ~ 09:00
(maximum 45 minutes per use)

*If you wish to book the private bath at your desired time before your check-in, it is bookable with in-advance reservation fee of JPY 1000 per use.